GLOBAL REPORT—Hotel brands and developers are finding compelling advantages to using the latest forms of modular construction for new projects, whether it's implementing just bathroom "pods" or pre-fabricating the entire guestroom.
And with means for the shipping/transport of pre-built units ever expanding, developers all over the globe now have the option of tapping into savvy modular designs.
According to sources, contemporary modular construction techniques can solve myriad development headaches, including scarcity of materials and skilled labor in some areas, as well as weather conditions and situations where speed to market is essential. Although the approach requires careful planning and may cost a premium, experts say the payoff can be found in resulting revenues.
"With the onset of bathroom pods in the last 10 years and the technology behind modular construction getting better and better designs, it's definitely moved forward," said Dave Walsh, senior director of new-build project management for Marriott International. "The quality of projects are much better than they ever were in the past. We're very hot on modular."
From bathrooms to guestrooms
Walsh said for many developers, the most obvious choice for modular is hotel bathrooms, which can be built as self-contained "pods" complete with plumbing connections and fixtures. The units are constructed in a controlled, consistent environment at the factory, then shipped to a hotel site, generally within a 300- to 500-mile radius from the plant.
"The bathroom's where the majority of the trade work takes place," Walsh explained. "You have mechanical, electrical and plumbing within it, so if you can treat that like an appliance—think of a bathroom like a dishwasher—if you can build the quality offsite, deliver it, unpackage it, make a couple connections and build it into a normal build cycle of a project, that benefits everyone. There's the quality for the brand, and it definitely has the potential for speed to market. And a lot of time that speed to market turns into cost savings on the back end."
Hilton Worldwide Holdings is taking the concept a step further. The company recently teamed with modular provider CIMC to build a Hampton by Hilton at Bristol Airport in the United Kingdom, which
CIMC
owns and
Hilton
will manage. It's the first of an anticipated multiple-property push using a newer, more comprehensive modular technique where entire guestrooms are built in the factory, then shipped globally for new Hampton Inn and Hilton Garden Inn properties.
A key driver of that process is CIMC's ability to transport cargo: The rooms are made to the exact size of standard steel shipping containers, so they can be hoisted onto cargo vessels, stacked and transported by boat. The hotels' public spaces are built according to traditional methods, then the modular steel-framed guestrooms are stacked on top and connected to central mechanical systems through pre-made shafts.
Modular goes global
The company is initially targeting Europe and Africa for these modular projects but might soon be spreading into Asia and other places where the method makes sense.
"The most exciting applications of this modular construction is in emerging markets and particularly on the continent of Africa, where there is enormous demand for quality hotels. Focused-service hotels like Hilton Garden Inn are where we see the most potential," said Patrick Fitzgibbon, senior VP of development, Europe & Africa, for Hilton.
"In many parts of Africa where there's demand, there isn't necessarily infrastructure or expertise to be building hotels, because they haven't been built before and there may be issues with availability of materials. Instead you can manufacture in factory conditions in China, and then ship the rooms to the site, where the ground and maybe first floor are built using traditional construction, and the modular bedrooms sit on top," he said.
But modular construction also works in North America, too, sources said. There may be conditions where it's essential to open quickly in an emerging market, or modular may be used in places where weather conditions don't favor development during lengthy periods of the year.
"For us here in New Brunswick, Canada, it made sense because we started building at the end of October, with the modules being erected mid-December," explained Joey Saulnier, president of Saulnier Losier Management, which developed the Fairfield Inn and Suites in Moncton, which used modular rooms in its design. "This avoided the problem of building in the middle of winter with the abundance of snow we get here. Each module was weather-tight at the time of installation; not having the framing exposed to the weather meant a better quality end product with less movement as the wood frame dries and less cracking of the finished product."
Costs and benefits
Saulnier said that for the Fairfield, the biggest payoff of modular was the speed to market: The hotel opened roughly three to four months sooner than it would have if traditional methods had been employed.
There is not a premium to modular construction, provided everything was planned well in advance, he said.
Walsh agreed.
"With today's market, less freight costs, we believe modular should be at least cost neutral with the savings on speed to market determined over time as more and more projects go modular," he said.
In the end Saulnier was happy with his decision to go modular.
Like those at Hilton, he said it makes sense to construct as much of the guestroom as possible at the factory.
"I would encourage manufacturers to push the modular construction as far as possible at the manufacturing plant to have the least amount of work left to do on site," Saulnier said. "This would include having the furniture installed at the plant, along with as many finishes as possible."
Although for now most of the modular development is happening in lower tiers, sources said in the future even luxury rooms could be built using similar methods. The process might be somewhat different at the factory, but it would solve the same demands of certain markets.
"It really comes down to the size of the box," Walsh said. "You've got locations where you've got resource constraints, skilled labor constraints, and you've got to think out-of-the-box to begin with, so why not go to a box? If you're trying to build a resort location in the middle of the ocean somewhere, that's going to be a struggle. Modular oftentimes is a good way to get that accomplished."
And it will become easier and more cost effective over time, between improved techniques, lower prices and more factory locations offering modular units in a given area. Fitzgibbon said modular is a sure bet for Hilton's select-service products but is an overall game changer that could conceivably redefine the entire hotel development process.
"In the right environment, you can build 20 of those units a day. You've got massive consistency of product, because you're checking everything at the factory before it leaves, making sure it's right," he said. "It's one of the holy grails of the hotel business in terms of growth, especially for focused-service hotels, because we've never really found a solution to delivering volume in a very efficient way using modular construction.
"We think this is the first time we've really found it, and we're really excited about the opportunities it offers."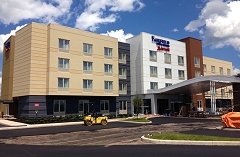 http://www.hotelnewsnow.com/Article/15836/Out-of-the-box-Modular-construction-matures