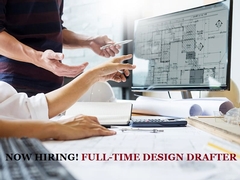 POSITION OVERVIEW
• The ideal candidate must have above average knowledge of architectural design and will be responsible for preparing detailed drawings or modifications using Autodesk REVIT software.
• Will create and make revisions to drawings based on Builder requests and customer requirements.
• There will be interaction with the Builders to ensure drawings are correct and to collaborate on any issues that arise, as well as help suggest creative solutions to their challenges.
• Design Drafter will create detailed drawings which are used by the Builder network as sales presentation tools and on-site bid documents.
• Blueprints are converted to "shop drawings" and used during the manufacturing of products and the construction of modular buildings.
• The technical drawings incorporate the input from the customers, Builders and Sales Department and specify accurate dimensions, building code requirements, construction materials, and production methods.
• Employee must collect construction data and incorporate this information into drawings consulting with the Sales Department and Builder network.
• Design Drafter will process detailed construction information, understand building codes, and complete construction calculations for the materials to be used.
• This position has no supervisory responsibilities.
• This job operates in a professional office environment where individuals routinely use standard office equipment such as computers, phones, photocopiers, filing cabinets and fax machines.
• This is a full-time position. Days and hours of work are Monday through Friday, 8:00 a.m. to 5 p.m.
• No overnight travel is anticipated.
• Please note the job description is not designed to cover or contain a comprehensive listing of activities, duties or responsibilities that are required of the employee for this job. Duties, responsibilities and activities may change at any time with or without notice.
• This position offers a great opportunity to gain valuable experience and has potential for the right person to grow quickly within the company.
• Offering competitive wage based on applicant's experience.
REQUIRED EDUCATION AND EXPERIENCE:
• Qualified candidates will have a minimum of an Associate's Degree or Technical Degree in Architectural Drafting/Design or related field.
• Must have at least two years of related work experience or any equivalent combination of experience or training that provides the required knowledge, skills and abilities.
• Must have a positive and professional attitude, strong work ethic, be a self-starter and a team player.
• Candidates must possess excellent communication skills, both verbal and written
• Must have experience in drafting and design of residential single and multi-family construction focusing on new home design with a complete understanding of construction techniques.
• Basic Microsoft Word and Excel knowledge.
• Structural analysis and conceptual skills.
• Must be detail oriented.
• Well organized with ability to multi-task.
• Experience working on construction documents.
BENEFITS:
• No holidays, nights or weekends
• Affordable Medical, Dental, and Vision Insurance
• Health Savings Account with employer contribution
• Company paid short term disability and life insurance
• 401(k) with employer match
• Weekly pay checks
Stratford Homes Limited Partnership is a "systems built" modular building manufacturer located in Stratford, WI. The company specializes in the construction of custom single family and multifamily construction as well as lodging and commercial projects. Presently we are looking to fill a full time architectural drafting position that will mainly focus on single family residential home building. This full time drafting position offers an exciting opportunity to use your construction knowledge, technical and communication skills to provide detailed drawings and construction information to Builders and their customers.
AAP/EEO Statement:
Stratford Homes LP is an Equal Opportunity/Affirmative Action employer. All qualified applicants will receive consideration for employment without regard to sex, gender, identity, sexual orientation, race, color, religion, national origin, disability, protected veteran status, age or any other characteristic protected by law.