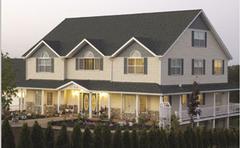 This is our first blog! We've also joined Twitter and Facebook so head on over there and like and follow us! :)
A little about us: We make your dream home a reality.
You know just what you want in your dream home. You've given it a great deal of thought, and now the time has come to make that dream come to life. Stratford Homes can help translate your vision of that perfect home into reality with a high-quality, "stick-built" modular home. You'll appreciate the superior fixtures, materials, and products we'll use to build your home.
Whether your dream calls for a ranch style, tri-level, two-story, or cottage-style home, Stratford Homes builds your home the way you want it, to fit your lifestyle. Each of our homes is backed by a manufacturer's one-year limited warranty covering defects in material and workmanship, and a 10-year insured limited warranty against loss resulting from major structural defects.
Partner with Stratford Homes and an Independent Stratford Homes Builder, and it won't be long until you have the high-quality, true-value home of your dreams.
Since 1973, Stratford Homes has built more than 10,000 custom modular homes, each one carefully crafted for its customers using the latest knowledge, methods, and materials to deliver quality and savings through construction efficiency.
Wisconsin
Stratford Homes Limited Partnership
402 South Weber Avenue
Stratford, Wisconsin 54484
[email protected]
(715) 687-3133 Telephone
(800) 448-1524 Toll Free
(715) 687-3453 Facsimile
Idaho
Stratford Building Corporation
7628 West Boekel Road
Rathdrum, Idaho 83858
[email protected]
(208) 687-2707 Telephone
(800) 617-7778 Toll Free
(208) 687-1553 Facsimile